Synology a annoncé aujourd'hui qu'après la découverte d'une faille critique sur leur firmware 4.3, qu'un correctif était disponible via l'interface de votre NAS Synology dans le menu « Mise à jour du DSM » du panneau de configuration.
Il s'agit de la version 4.3-3827 et qu'il vous faut installer d'urgence sur votre NAS.
Vous pouvez également télécharger le patch sur dans le centre de téléchargements de Synology, ici : http://www.synology.com/fr-fr/support/download/DS1511+
La mise à jour apporte les dernières fonctionnalités et améliorations suivantes (en anglais):
This update repairs the system and removes malware caused by past system vulnerabilities (CVE-2013-6955, CVE-2013-6987),
The compatibility of SMB 2 file service has been enhanced when transferring files to Mac OS X 10.9,
Fixed an issue where SFTP service would consume excessive memory when it was enabled,
This update is required to continue using QuickConnect & Push Service notifications.
En cas d'éventuelle infection, le patch va corriger et surtout supprimer les malwares qui se seraient infiltrés dans le système de votre NAS.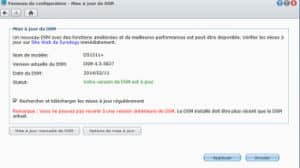 Il faut croire que Synology a constaté suffisamment de cas avérés d'infections pour se sentir le besoin de faire lui-même le ménage. A ma connaissance, il s'agit d'une première dans l'histoire de Synology.
Saluons une nouvelle fois la diligence de Synology à régler le problème et ce en  toute transparence.
Pour recherche avec Google sur la thématique de la faille Synology :